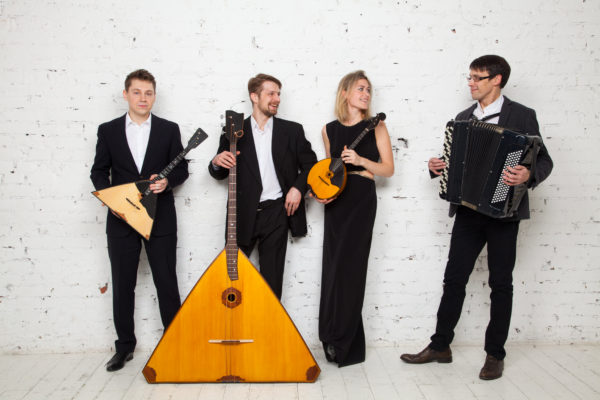 Thursday, March 28 | 7:30 pm
Russian Renaissance, a four piece group that uses authentic Russian folk instruments, emerged as the winners of the 2017 M-Prize Chamber competition—and now they're coming to the Berman! The group plays traditional Russian music while also reimagining tango and jazz on the balalaika, domra/domra alto, button accordion, and balalaika contrabasso. Their passion for music is inherent in their beautiful performance.
Renaissance debuted in October 2015, performing with world-renowned director Emir Kusturica, two-time laureate of the Cannes Film Festival and the No Smoking Orchestra. The group is highly sought after for performances in Russia, the United States, and all over the world.
Ivan Kuznetsov, balalaika
Anastasia Zakharova, domra/domra alto
Alexander Tarasov, button accordion
Ivan Vinogradov, balalaika contrabasso
Admission: $38 – $48
JCC Members: $31 – $40
Group discounts are available for parties of 10 or more.  Call (248) 661-1900 for more information.