Saturday, March 2 | 8:00 pm
Sunday, March 3 | 4:00 pm
Nashville Hurricane is a one man guitar epic. A manager, a mentor, a mother and a guitar prodigy tell their versions of what happened to the legendary fretboard phenomenon known as the 'Nashville Hurricane.' Filled with furious finger picking and unforgettable characters, the Nashville Hurricane will blow you away.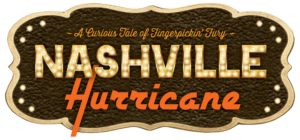 "From the moment actor Chase Padgett stepped onstage at the Calgary Fringe Festival, he had us in a grip" – FFWD Weekly
Chase Padgett brings audiences an out of this world experience in his "curious tale of fingerpickin' fury"—Nashville Hurricane. Within his one man show, Padgett tells the story of a washed up guitar prodigy through the eyes of the performer's manager, mother, blues playing friend, and the guitarist himself, all while charming audiences with spectacular guitar playing. Nashville Hurricane brings Padgett's virtuosic guitar and acting skills to life and tells an electrifying, developed story.
"Actor Chase Padgett is nothing short of an electrical storm." – Edmonton Journal
ABOUT CHASE: Chase Padgett has been an actor and musician for over 15 years. While attending the University of Central Florida, Case studied and worked at the Sak Comedy Lab in Orlando, Fl, one of the best improv companies in the southeast. After graduating in 2007 with a Bachelor of Arts in Music he worked at Walt Disney World and Universal Studios in various comedic and musical roles including custom song writing for special events. In 2010 he premiered his first solo show "6 Guitars" which quickly became on of the most successful shows in the history of the North American Fringe Festival circuit, receiving numerous awards and setting box office records in almost every town in has played in. His second solo show "Nashville Hurricane" went on to receive the same level of awards and audience numbers. In 2014 Chase was handpicked to perform a sketch comedy showcase for NBC in Los Angeles where he was able to work with some of the best comedy talent in the field. When not touring or audition in LA he resides in Portland, OR where he can be seen working with the Curious Comedy Theatre as a writer, performer, improviser and musician.
Admission: $38 – $48
JCC Members: $33 – $40
Group discounts are available for parties of 10 or more. Call (248) 661-1900 for more information.