Sunday, November 18 | 7:00 pm
This event is made possible by the generous sponsorship of  The Workmen's Circle/Arbeter Ring.
---
SOUL TO SOUL is an electrifying concert that explores the intersections between African-American and Yiddish folk music traditions. Conceived and directed by Zalmen Mlotek, featuring Lisa Fishman, Elmore James and Tony Perry. In English and Yiddish with English and Russian supertitles.
The exciting celebration of a common journey of two cultures is the essence of Soul to Soul which  brings together the African American and the Yiddish American experience in  a deeply stirring musical presentation. Mlotek performs with 2 African American Broadway  veterans, Tony Perry and Elmore James, and either Magda Fishman or Lisa Fishman, sharing the stage as well as a wonderful Klezmer ensemble. Soul to Soul has been performed for enthusiastic audiences from Coast to Coast.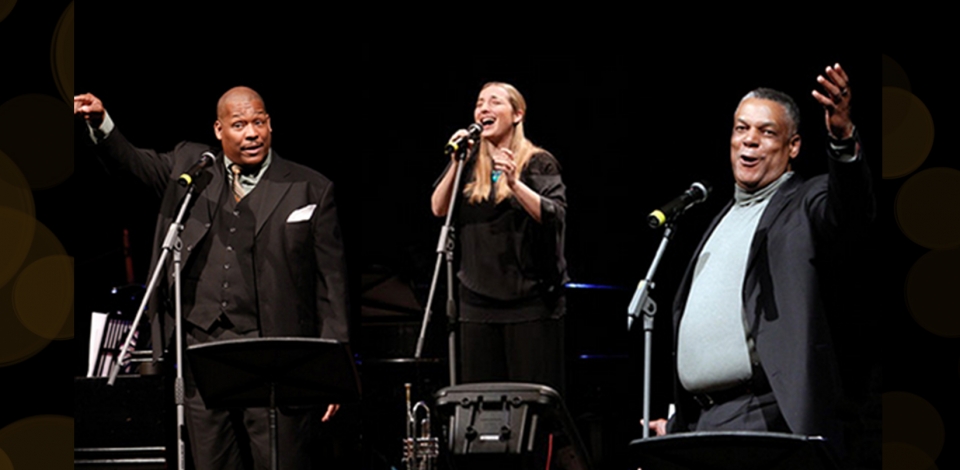 ---
---
ABOUT THE ARTISTS
ZALMEN MLOTEK is an internationally recognized authority on Yiddish folk and theater music and a leading figure in the Jewish theatre and concert worlds. Mr. Mlotek was raised in a prominent Yiddish-speaking family renowned for its Jewish songbook collections.  His formal training as a classical musician and conductor was at Julliard School of Music, the New England Conservatory of Music, the Tanglewood Music Center, Manhattan School of Music and Mannes School of Music.  Among his most notable teachers and mentors was Leonard Bernstein. Mr. Mlotek also studied conducting with Zubin Mehta, James Levine and other masters of music and conducting. Mr. Mlotek's deep roots in Yiddish culture, his elite musical education, his talent and passion for both have merged into a career that has revitalized the world of Yiddish music and theater.
MAGDA FISHMAN is a singer, musician, songwriter, who is building a large and loving following among a wide spectrum of audiences. She has created a unique blend of traditional and contemporary styles. Her repertoire includes Israeli songs, jazz, liturgical masterpieces, musical theater and her own compositions. She served in the Israeli Army Orchestra as vocal soloist and trumpet player. She performed extensively in Israel and Europe, the US and Canada. Fishman came to the United States as a part of the Tel-Aviv Broadway musical theater project and is the recipient of the prestigious America-Israel Cultural Foundation scholarship. She has performed at the Kennedy Center, the National Gallery of Canada, the First Night Festival in Boston, the 92nd Street Y Festival, the Philadelphia Museum of Art, the Baked Potato Jazz Club in Los Angeles, the New Jersey Performing Arts Center, the Walter Reade Theater, Town Hall, Prague State Opera, and most recently AIPAC, The Apollo Theater, The Jewish Museum of Heritage and the Israeli Embassy in Washington and NYC.
LISA FISHMAN, a singer, actress, songwriter, and guitarist, Lisa Fishman has performed throughout the U.S. and Europe – in a varied career that has included starring in Off-Broadway and Regional Musical Theater, singing and recording Jewish music, starring in Yiddish Theater productions, concertizing in broad range of styles of music from Folk, Rock, Pop and Jazz, to Heavy Metal, Broadway, Yiddish, Hebrew, and Ladino, and recording and performing her own original music.  Lisa's work in Klezmer and Jewish music include lead vocalist with Chicago's renowned Maxwell Street Klezmer Band, as well as sharing the stage in concerts with luminaries from the world of Jewish music – including the legendary Claire Barry of The Barry Sisters, Theodore Bikel, Fyvush Finkel, Seymour Rechzeit, Alicia Svigals, Frank London, Michael Alpert, Adrienne Cooper, Debbie Friedman, Lorin Sklamberg, Hankus Netsky, and Peter Yarrow of Peter, Paul, & Mary. Yiddish Theater and Jewish concert work include Di Goldene Kale, On Second Avenue (with Mike Burstyn), Shpiel, Shpiel, Shpiel, Gimpel Tam, and the concert piece, Ghetto Tango – all with the National Yiddish Theatre Folksbiene.
ELMORE JAMES is a veteran of five Broadway Shows. He sings in nine languages and first sang in Yiddish at Town Hall's, Yiddish in America, a Gala Concert Celebrating the Centennial of the Workman's Circle in New York City. He exploded onto the stage as the finale to the evening, with the baritone solo from Beethoven's ninth symphony, then led the entire cast, including Bruce Adler, Theodore Bikel, Tovah Feldshuh, Sheldon Harnick, Lainie Kazan, Mandy Patinkin and the New Yiddish Chorale in the rousing rendition of the final chorus to the symphony, Ode to Joy. He was such a smash sensation that night that he has been singing Yiddish ever since. The following year he was invited to return to Town Hall for the Workman's Circle concert as well as the 70th Gala Cultural Seder honoring Mina Bern and Jerrold Nadler at the Grand Hyatt Hotel and Merkin Hall. Elmore James co-starred in the last show to perform at the Harold Clurman theatre on Theatre Row, Hip, Heymish and Hot, the whimsical Yiddish/Jazz concert with Eleanor Reissa. As one of Broadway's most versatile artists, Mr. James' operatic performances include appearances at the Metropolitan Opera House, Carnegie Hall, Avery Fisher Hall and the opera houses in Paris, Vienna, Munich, Berlin, Rome, Verona, Sicily, Sweden and Norway.
TONY PERRY has been seen on the New York stage in the US premiere of Murray Schisgal's "74 Georgia Avenue," which was performed in English and Yiddish; the recent staged reading of Kevin Ray's jazz musical The Last Word; the New York theatrical premiere of Cross That River,  A Shelter In Our Car, Repo: The Genetic Opera, The Elf, The Bunny and the Big Xmas Blowup and the workshop of Hell's Kitchen: The Musical. Among his favorite roles are Jim Conley in Parade, Big Moe in Five Guys Named Moe, Ken in Ain't Misbehavin, Riff Raff in The Rocky Horror Show, Parchester in Me and My Girl, Victor in Smokey Joe's Cafe and Jim in Big River. He had a featured role in the film "Mickey." As a singer-songwriter, he has performed across the Northeast, and has three CDs available at tonyperry.com. He resides in New York City with his wife, Beth, is a student of George DiCenzo and is a proud member of Actors' Equity Association.
---
ABOUT OUR SPONSOR: Workmen's Circle's mission is to connect Jewish adults, kids and families of all affiliations with their cultural heritage, working to build a better and more beautiful world for all. They were founded in 1900 from immigrants to fight the challenges workers faced with a united front and today they are widely known and respected as a central force in the renaissance of fascination and creativity in Yiddish culture. Workmen's Circle has always had a crucial voice in the struggles of American labor. Currently, they work fiercely to remain a bulwark in the fight for the dignity and economic rights of immigrants, fairness in labor practices, decent health care for all Americans. Their annual programs include school, camp, cultural events, teaching the Yiddish language and social justice.
Admission: $43 – $50
JCC Members: $38 – $45
Group discounts are available for parties of 10 or more.  Call (248) 661-1900 for more information.