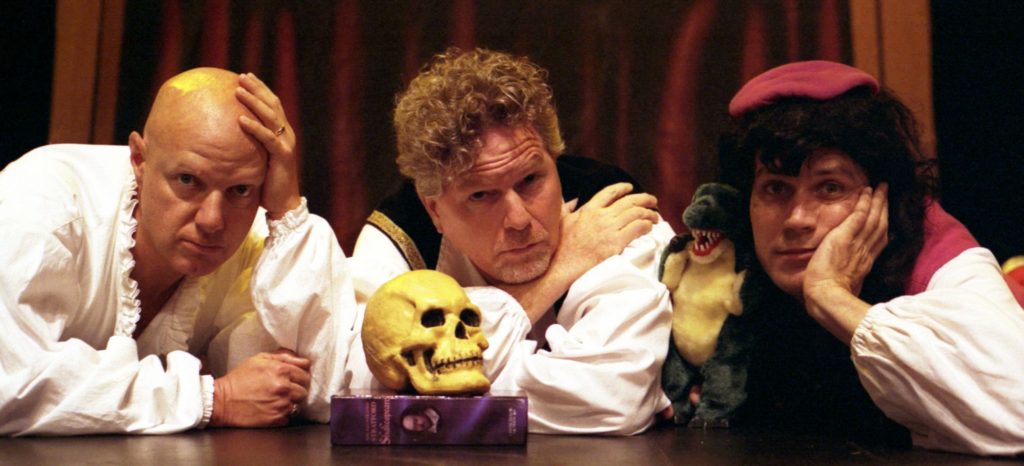 Saturday, January 26 | 8:00 pm
"If you like Shakespeare, you'll like this show. If you hate Shakespeare, you'll love this show!" —The Today Show
Do you think that 3 men can summarize all 37 of Shakespeare's plays in 97 minutes? This question is made a reality in the hilarious and high energy 'The Complete Works of William Shakespeare (Abridged)', performed by Adam Long, Daniel Singer, and Jess Winfield. Their show is unforgettably funny and educational—one you won't want to miss!
The Complete Works of William Shakespeare (Abridged) Revised is written by Adam Long, Daniel Singer, and Jess Winfield that parodies the plays of William Shakespeare with all of them being performed (in comically shortened or merged form) by only three actors.
"A madcap condensation that features nonstop laughs. Done at a whirlwind pace and with great delight, they are sure to win over even the most skeptical. And there is no doubt that William Shakespeare himself … would approve." —Daily Variety
ABOUT REDUCED SHAKESPEARE COMPANY:
Since its pass-the-hat origins in 1981, the Reduced Shakespeare Company has created ten world-renowned stage shows, two television specials, several failed TV pilots, and numerous radio pieces, all of which have been performed, seen, and heard the world over. The company's itinerary has included stops off-Broadway, at the White House, the Kennedy Center, Lincoln Center, London's West End, Seattle Repertory Theatre, American Repertory Theatre and Montreal's famed Just For Laughs Festival, as well as performances in Israel, Australia, New Zealand, Hong Kong, Japan, Malta, Singapore and Bermuda, plus countless civic and university venues throughout the USA, the UK, and Europe.
The company's first three shows, The Complete Works of William Shakespeare (abridged), The Complete History of America (abridged) Revised and The Bible: The Complete Word of God (abridged) ran for nine years at the Criterion Theatre in Piccadilly Circus. They were London's longest-running comedies, and the RSC had more shows running in the West End than Andrew Lloyd Webber. They were also funnier.
Admission: $38 – $48
JCC Members: $33 – $40
Group discounts are available for parties of 10 or more. Call (248) 661-1900 for more information.